Use a VPN to Increase Small Business Productivity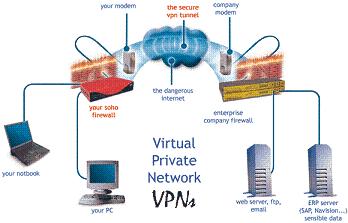 Our workforce has become  more decentralized and telecommuting has become commonplace. Businesses of all sizes now depend on VPN's or "virtual private networks". VPN's are secure, private networks that run across the public networks (Internet). These VPN's allow workers to remotely and securely access your computer network, as though they were working at their desks in your office.
If you or your employees are routinely away from your office and need access to your company's network, a VPN is an inexpensive way to increase productivity — without sacrificing security.
The name "virtual private network" gives you a clue about how VPNs actually work. VPN software programs "carve out" a section of the Web, and allow only authorized users to access it. This virtual network works across the existing network and yet it's private!
Your remote workers enter their secure login credentials and they are granted access to the VPN gateway at the office. Now they access the network just as if they were at their office desks. They can work with software programs, read and send e-mail, even open and store files.  They can do whatever their work requires them to do, but without requiring them to drive into the office, or occupy their desk.
Creating these secure links between the remote user and the network, requires only two parts.
First you need the "VPN client" which is  software that's installed on the remote users computer. Second you need the "VPN gateway" which is on the network side. This screens out unauthorized access attempts and safely lets in your  authorized users.
Additional security is provided when the "VPN client" encrypts all data before  sending it out. On the other end the "VPN gateway" decodes the data once it arrives.
Even very small companies can reap the benefits of VPN technology. Windows Small Business Server and Windows 7 have built-in VPN capability. So if your network runs on Windows Small Business Server, it's just a matter of enabling and configuring the VPN features. Crossroad Technologies can quickly and easily configure these options for you.
There are open source alternatives, too — some of them designed for the home PC user. Let me know if you want to explore these options. However my best recommendation is to use one of the Windows Small Business Server options.